Kathryn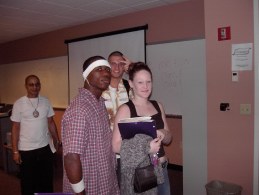 My first night at Southwest Florida College

COME VISIT US AT RICHIE'S CAFÉ
HOME COOKED MEALS AND FAMILY OWNED AND OPERATED!
LOCATED AT 4040 WEST WATERS AVENUE
TAMPA, FLORIDA 33614
Hi! My name is Kathryn. I was born and raised in Tampa, Florida on November 29, 1984. I have a very small family. Well, to be technical, my family here is small. Most of my mother's family lives in Illinois and New Jersey, so I haven't met half of them. Here in Florida, I have my parents, my brothers, and some aunts and uncles. There isn't a lot of us, but at least I have them.
I wasn't born in money, but I have had a great life. I have what I need and get some of what I want. My parents didn't spoil me too much, because they wanted me to know what life is about. They wanted me to learn on my own and help me when I really needed it. That made me a truly strong person, with high expectations of myself.
I graduated in May of 2003 from Wharton High School in New Tampa. I had a GPA of 3.0 and was planning on attending the University of Tampa, but I decided to take a year off before doing anything. I finally decided t go back to school, but not at UT. I ended up at a private college called Southwest Florida College. I plan on going to a university after I finish there, but I want to have a good job in Paralegal Studies, before I go to get my law degree.
Right now I am working a full time job, while going to school full time as well. It's hard, but it's worth it. I'm paying my bills, while getting an education. I work at my mother's café. I could work somewhere else, but I love working with my family and being with them. It's a great atmosphere.
There isn't much to say about me, but that I love my family and I am a very wonderful person, if you catch me on the right day (J/K). All in all, I'm truly a good person.