Valerie

Biography of Valerie Garrard

My name is Valerie Suzanne Garrard. I was born and raised in Davenport Iowa. I have two sisters, Leslie Garrard and Penelope Garrard. As a young child growing up I had a very good life. I always had what I needed, and usually got what I wanted. My father, Larry Garrard was born and raised in Alabama. After high school he moved to Iowa where he then met my mother, Lindy Garrard. My sister Leslie has two sons (my nephews) Nicholas and Charlie. We also have a Scottish terrier named Louie.
When I was in high school, I did well but wasn't really sure what I wanted to do, so I decided to enlist into the U.S. Army. I left for the army in February of 1998. I've been stationed at Ft. Leonardwood, Missouri where I completed my Basic Combat Training, Ft. Sam Houston where I completed my Advanced Individual Training and then became a 91 Whiskey, Nuclear Medicine. I spent 2 years in the Iowa National Guard Reserve. While in the National Guard I was able to go over seas to a country off the Caribbean coast called Belize. It was a great experience. I enjoyed the time I spent in the reserve so much, that I decided to go active duty army. I enlisted for Ft. Stewart, Georgia where I spent 2 ½ years. While at Ft. Stewart, I was able to go overseas again to Kosovo a country in Europe. That experience however wasn't as good as Belize. After I got back to the U.S. I went back to work in the military for a little while, and then became pregnant. I had my daughter Haley Louise on February 19, 2002. I decided to get out of the army, for fear of having to leave her at any given moment. Haley is my only child. She is almost 2, and definitely keeping me on my toes. My family moved to Florida while I was still in the army, so when I got out I moved down here to be closer to them. I've lived in Florida now for a little over a year.
As of right now, I am currently enrolled in school, Southwest Florida College where I am studying Paralegal Studies. I work in downtown Tampa at a law firm in the accounting department. I enjoy my job and the environment where I work, so the career that I chose seemed to be appropriate. I've learned through my own personal experience that it's always good to know the law.
I have a good job, a great family, and a terrific life. All there is to do now is live it.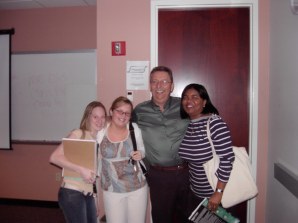 Sarah, Valerie, Ed Sloan, Catherine